Did you ever dream of far away lands where fairies and pixies live, as a child? Well, I did! Did you ever imagine you could hear the little fairies playing in the woods and meadows? Well, I did! I am no longer a child, but I have created this site with those fantasies in mind. I hope you enjoy exploring it, as much as I enjoyed creating it!

I claim no credit for any of the graphics used throughout this site. If you know of anyone who has a copywrite to any of it, please let me know, and I will remove it, or give them credit. Which ever they prefer. All the graphics were discovered on the Web. Please feel free to take any of them you choose, but please do not link them back to this site.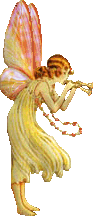 I love to watch the fairies dance,
As they sing a lilting song.

The flowers bloom with a fairies touch
Spreading their petals to the sun.

I listen, to the uplifting tune,
A smile upon my face,

Wishing that one day real soon,
The fairies will take me away,

To their land of merriment
Where fairies and pixies play!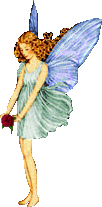 FAIRY VOYAGE
If I were just a fairy small,
I'd take a leaf and sail away
I'd sit astride the stem and guide
It straight to Fairyland and stay!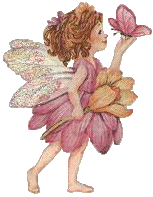 BELIEVE IN THE FAIRIES
Believe in the fairies
Who make dreams come true.
Believe in the wonder,
The stars and the moon.
Believe in the magic,
From fairies above.
They dance in the flowers,
And sing songs of love.
And if you just believe,
The fairies will be there
To watch over you.