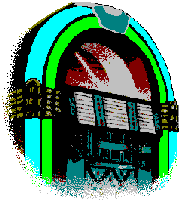 On the following pages, you will find a collection of 50's Rock & Roll music, along with memorabilia of the same time period.

This site is dedicated to all you 'Baby Boomers' out there! Enjoy the music and the memories!
Remember when.....Elvis was "King" of Rock & Roll? The 57 Chevy was the hottest car on the road? Poodle skirts and bobbie socks were the style of the century? Drive-in movies were the Saturday night place to be? Flat tops and ducktail hair was in? Remember when?