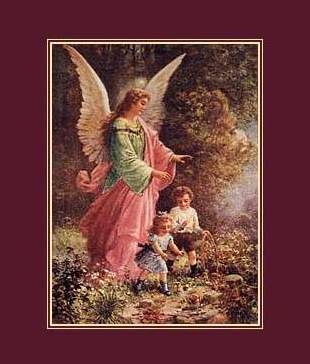 The Guardian
(author unknown)

There are those who believe,
So the story is told,
That at birth you receive,
Your own Angel to hold.

You came into this world
On a wing and a prayer,
And throughtout your lifetime,
She will always be there.

A Guardian Angel from up above,
Who will guide what you do,
Her pure essence is love,
Sent to watch over you.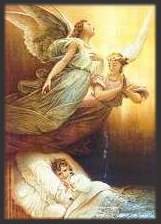 Angels coming out to play,
Angels touch our life each day.
Though we may not know they're there,
There are Angels everywhere.

Angels can cause a heart to sing.
Angels give our spirits wings.
An Angels touch brings God so near.
An Angels smile can dry a tear.

Have you felt a tug on your heartstrings?
Chances are twas caused by Angel wings.
They flutter softly in the light.
Shimmering, with edges of gold so bright.

We mere mortals to earth are bound,
While Angels trod on Holy Ground.
So next time you are feeling low,
Remember, Angels are there...wherever you go!