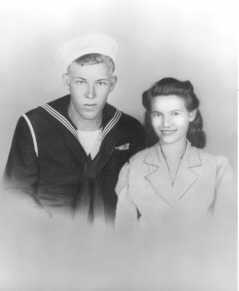 The photo is a picture of my Mom and Dad, taken shortly after they were married.
This site is dedicated to their memory. I lost my Dad when I was just a child of 13, and I lost my Mom in 1999. Both of them will live on in the hearts and memories of their children, grandchildren, and all the future generations to come.
Mom loved Angels! She had an extensive collection, acquired over the years. Some purchased by herself, but most given to her by her children and grandchildren. She was a very special person, loved by everyone.She, herself, was an Angel on earth, always taking care of someone in need, be it family or friends. Though she is no longer with us in body, we know that she is surely one of God's special Angels in heaven, and is watching over us all.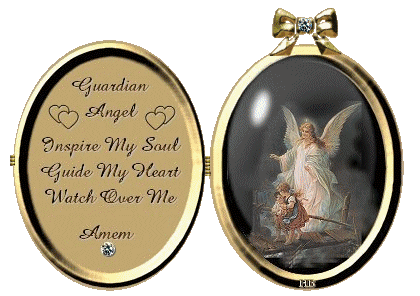 Mom gave me a painting of this guardian angel for my birthday just before she left us to join God's host in heaven. This locket is placed here in loving memory of a beautiful, loving Mom and "Nanny".
We must never ask why God gave her wings to fly.
She is our Angel above, showering us with her love.
So try not to cry, for the Angel up high.
She is in a far better place, with a smile upon her face.
We will think of her often, the Angel God had not forgotten.
Her wings are as shiny as gold, and close to those arms, she used to hold.
Time will pass, and we will look up to God and ask.
"Is our Angel safe? Is there a smile upon her face?"
He will answer with sunshine, the answer, "She is fine."
So, let us wipe our eyes, and look up to heaven as she flies.
No more will we question, "Why her?" For we know the answer for sure.
God has found an Angel he had forgotten!
So let us think of her often, our Angel that God has not forgotten.

A poem written by Jessica in memory of her friend Danielle Ackerman. Jessica gave me permission to use this poem in memory of my own special Mom. Thank you Jessica.